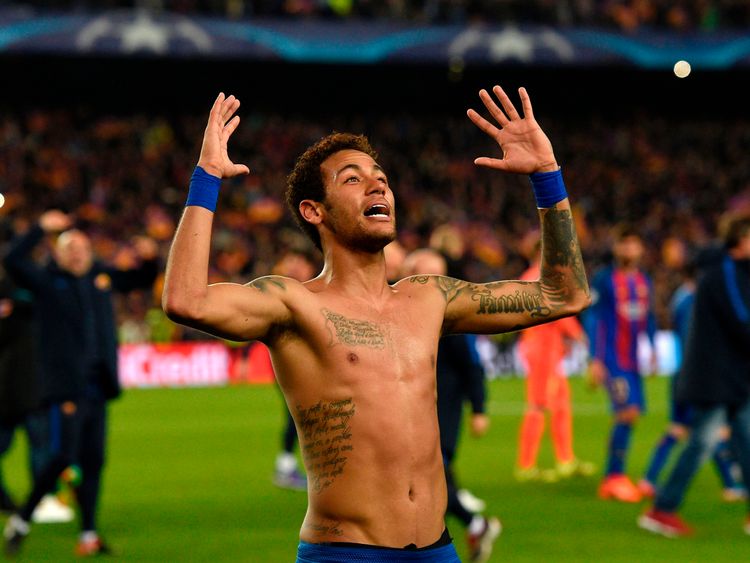 Neymar has been told he must stand trial in Spain as the long-standing allegations of fraud and corruption surrounding his transfer from Santos to Barcelona moving to the next stage.
Neymar's parents, Nadine and Neymar Santos Senior will stand trial in court, plus current Barcelona president Josep Maria Bartomeu and former president Sandro Rosell will also appear in the trial.
The alleged "business corruption and fraud" offences relate to Neymar's transfer to Barcelona from Brazil-based side Santos in 2013.
Neymar's arrival from Brazil's Santos has been a huge success for the Spanish champions on the pitch but a judicial nightmare off it.
The controversy surrounding Neymar's transfer stems from a complaint by the Brazilian investment group DIS, who claim to have owned 40 per cent of the rights to Neymar during his time at Santos.
The transfer figure originally published by Barcelona was €57.1m (£48.4m) with €40m euros (£33.9m) of that given to his family, but Spanish authorities believe the real transfer fee was at least €83m euros (£70.3m).
Prosecutors have recommended two years in prison for Neymar, according to local media. Sentences of two years or less are usually suspended for first-time offenders in Spain.
Neymar could face a jail sentence if found guilty over accusations he and his family helped hide away millions.
Both Barcelona and Neymar were subsequently charged for tax fraud.
Barcelona have already been hit with a 5.5 million euro ($NZ8.7m) fine due to tax irregularities in the deal. Last July Lionel Messi and his father were given 21-month suspended jail sentences for tax fraud relating to the player's image rights.