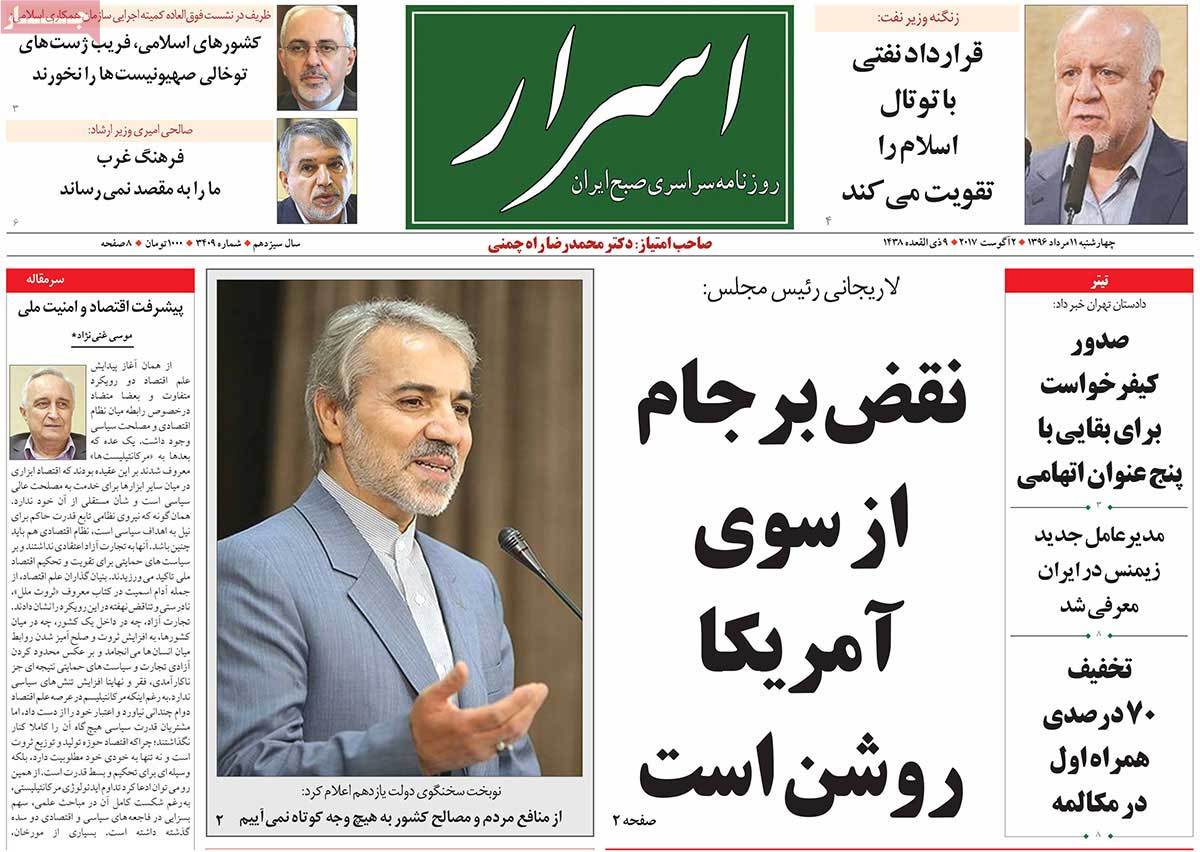 "Hardliners will try even harder than in Rouhani's first term to make him look like a lame duck president".
President Donald Trump signed into law a new sanctions package that targets Iran, along with Russian Federation and North Korea, despite complaints that it includes "a number of clearly unconstitutional provisions".
Commenting on the Joint Comprehensive Plan of Action, which was signed in 2015, Rouhani said: "The nuclear deal is a sign of Iran's goodwill on the global stage".
The United States is undermining the Iran nuclear deal by imposing sanctions on the country, a ranking Iranian official said Thursday on state TV.
The ceremony is attended by heads of the three branches and the president-elect, cabinet ministers, members of parliament, members of the Guardian Council, judiciary officials, senior military and police commanders, political, social and cultural figures, families of martyrs and ambassadors and representatives of foreign countries.
"The nuclear deal is a sign of Iran's goodwill on the worldwide stage", he added.
The agreement had been negotiated by the administration of Barack Obama, former USA president.
Iran has yet to issue a formal response to the sanctions imposed by the U.S.
The new US sanctions could embolden Rouhani's conservative rivals who say the nuclear deal was a form of capitulation.
"We believe that the nuclear deal has been violated and we will react appropriately", Araghchi said on state television, following news that US President Donald Trump had signed the new sanctions into law.
Following the nuclear deal, Washington and the European Union lifted sanctions related to Iran's atomic programme that the West alleged was for military purposes but Tehran said was peaceful.
"And the second debate is, if these sanctions are to be implemented, how should Iran respond?"
During his election campaign for a second term in office, Hassan Rouhani, 68, pledged to deliver on his campaign promises of creating a freer society and improving the economic situation in the country.
Rouhani is scheduled to take the oath of office before Parliament on Saturday, amid tight security measures provided by the Revolutionary Guards.
In Iran's presidential election on May 19, Rouhani garnered 23,549,616 votes from a total of 41,220,131 ballots. The runner-up, Ebrahim Raisi, secured 38.5% of the votes.